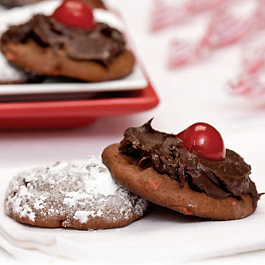 Courtesy of National Cherry Growers
Servings: 54
Prep Time: 20 Min.
Cook Time: 10 Min.
* 1 c. sugar
* 1/2 c. margarine or butter, softened
* 1 egg
* 2 oz. unsweetened chocolate melted and cooled
* 1/3 c. buttermilk, milk or water
* 1 tsp. vanilla
* 1 3/4 c. all-purpose flour or whole wheat flour** (see below)
* 1/2 tsp. baking soda
* 1/2 tsp. salt
* 4 16 oz. jars maraschino cherries, stemless or halves

Chocolate Frosting:
* 2 oz. unsweetened chocolate
* 2 Tbsp. margarine or butter
* 3 Tbsp. water
* 1+ c. powdered sugar
1. Heat oven to 400°F. Chop cherries, reserving 50 halves for garnish. Mix sugar, margarine, egg, chocolate, buttermilk and vanilla. Stir in flour, baking soda, salt and cherries.
2. Drop dough by rounded teaspoonful about 2 in. apart into ungreased cookie sheet. Bake 8 to 10 min. or until almost no indentation remains when touched; cool. Frost with Chocolate Frosting or dust with powdered sugar. Garnish with cherry halves, if desired.
3. For frosting: Heat chocolate and margarine/butter over low heat until melted; remove from heat. Stir in water and powdered sugar until smooth.

**Note: If using self-rising flour, omit baking soda and salt.